6 Fun Ways to Celebrate Easter with Your Dogs
Mar 24,2023 | Petbobi
There are many fun traditions that are associated with Easter like Easter egg scavenger hunts, visits from the Easter bunny, and—most importantly—gathering together with family. For many pet parents, dogs are an integral part of their family and that means being included in holiday festivities!
Just like children, there are many fun, festive activities that your dog will love participating in. Read on to learn how to celebrate Easter with your dog this year.
Have a Dog-Friendly Easter Egg Hunt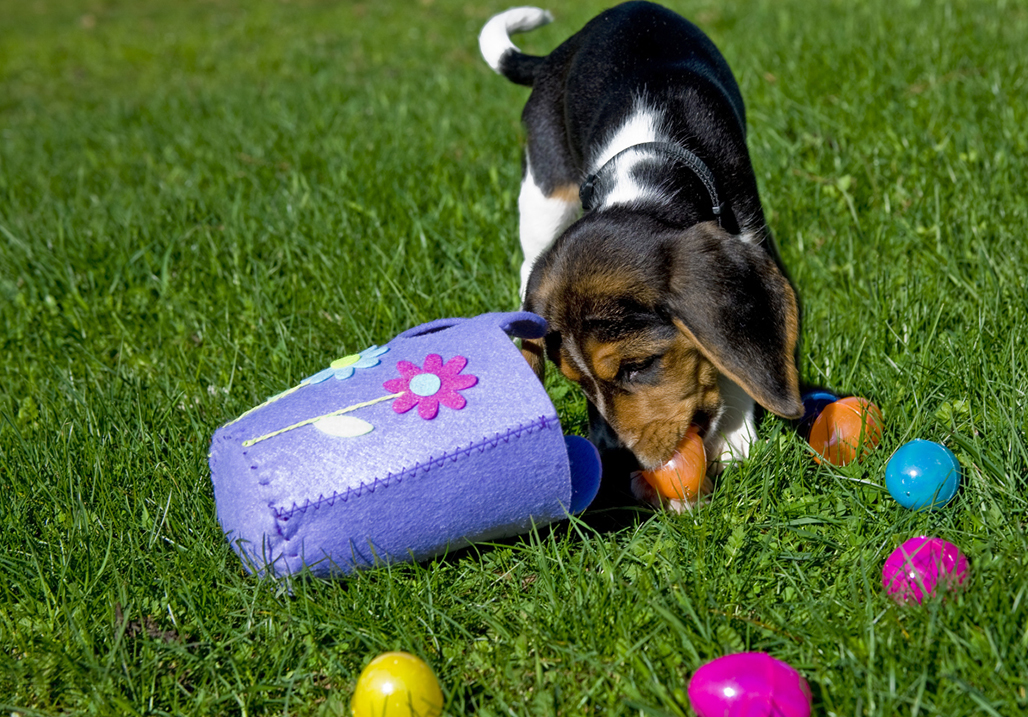 One of the most iconic (and most fun) parts of Easter is participating in the Easter egg hunt, and it's the perfect activity for your dog to join in! Egg hunts appeal to your dog's natural instincts, relying on their keen sense of smell.
The key to making your egg hunt dog-friendly is to eliminate any use of chocolate or candy, as these are both highly toxic for your furry friend. If you have small children, create two separate egg hunts to ensure no accidental mixing up of Easter eggs.
Instead of candy, you can fill the plastic eggs with your dog's favorite treats, preferably ones that are extra smelly! This helps your dog find the hidden eggs, and makes the eggs even more rewarding.
Choose plastic eggs that are large enough that your dog can't swallow them, and monitor them at all times during the egg hunt. If your dog is likely to chew on the eggs, you can also substitute them for small enrichment toys that you can fill with treats and hide.
Create a Dog-Approved Easter Basket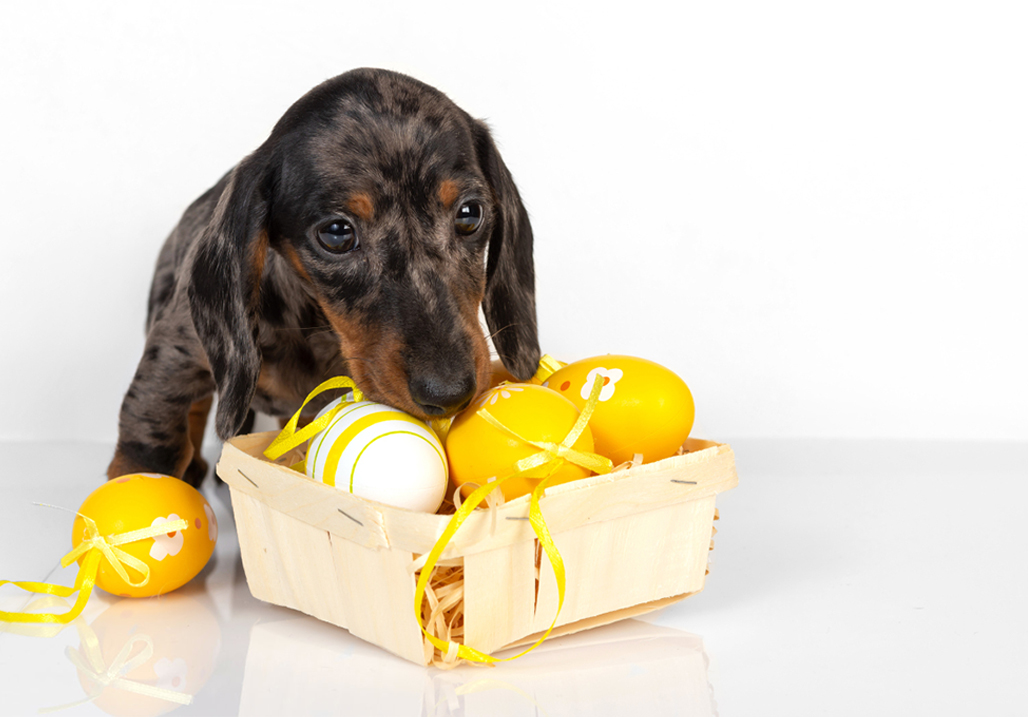 The Easter Bunny loves visiting human children and fur babies alike! This Easter, create a festive basket filled with all of your dog's favorite toys and treats to make the holiday extra special.
Easter baskets are a great opportunity to get creative and personalize each basket to your dog's specific tastes. The toys and treats can be themed or they can be reliable favorites that you know your dog will love.
When you decorate the basket, avoid using plastic grass as a filler. The decorative grass is a choking hazard for your dog, and just a few pieces can lead to painful gastrointestinal issues if ingested. If you have children, keep their Easter baskets out of your dog's reach.
Make Easter-Themed Doggie Treats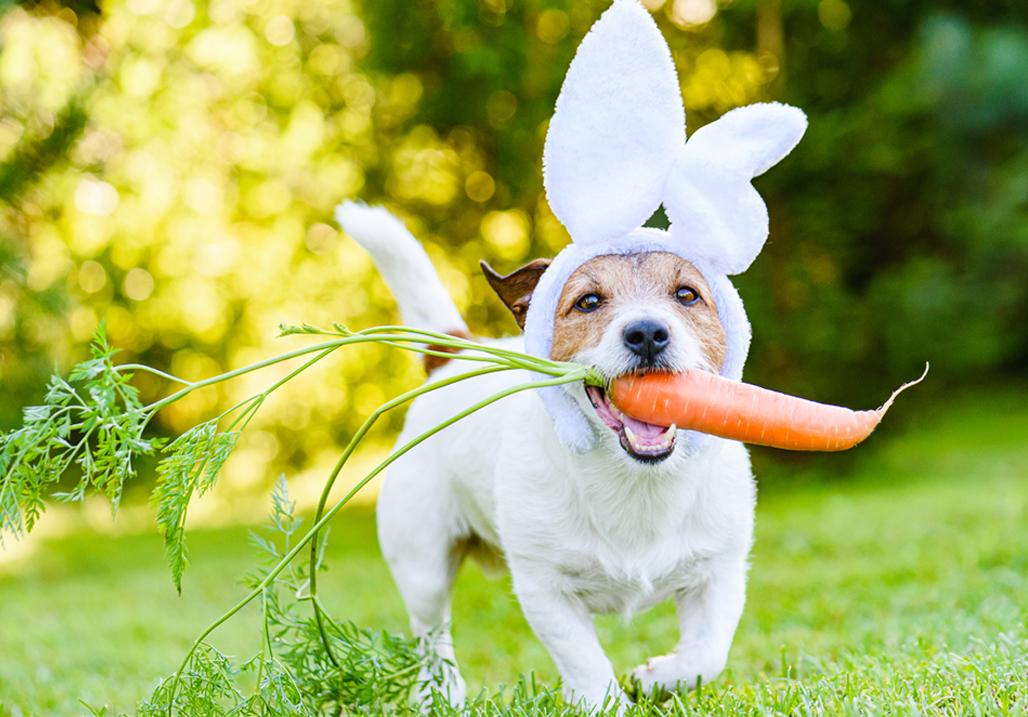 What's a holiday without fun, festive treats? The possibilities are endless for what kind of easter treats you can make for your dog. While candies and chocolates may be off the table, you can still DIY your own cookies or cakes with dog-friendly ingredients like Greek yogurt, peanut butter, and carrots.
Alternatively, you can use dog-friendly human foods as a fun treat. Consider a charcuterie-style treat plate for your dog with carrots, broccoli, blueberries, or bananas. There are lots of delicious, spring fruits and veggies you can opt for to stay on theme and help your dog feel included.
If you're not a DIY-er, you can also look for fun, Easter dog treats at your local pet store or dog bakery.
Get Dressed Up for a Festive Photoshoot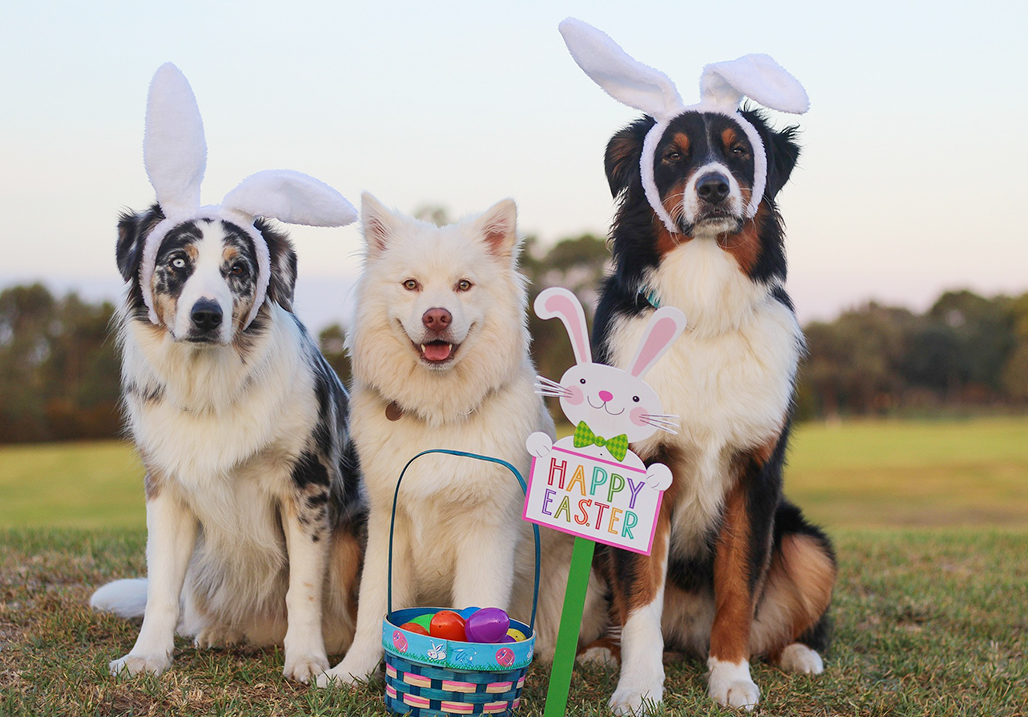 Easter is the perfect opportunity to take family photos! Get the family dressed in your best outfits (your pup included) and set up your camera.
Dogs can be tricky to capture because they love to move, so a pro tip is to record a video of your family posing for different photos and then take screenshots of the video later, so you never miss the perfect shot.
You can be as formal or as fun with the photo shoot as you want to be. Adding props can make for great photos, and never underestimate how cute a pair of bunny ears will look on your dog.
You can also splurge for a professional pet photographer if you want high-quality photos that you can cherish for years to come.
Spend Plenty of Time Outdoors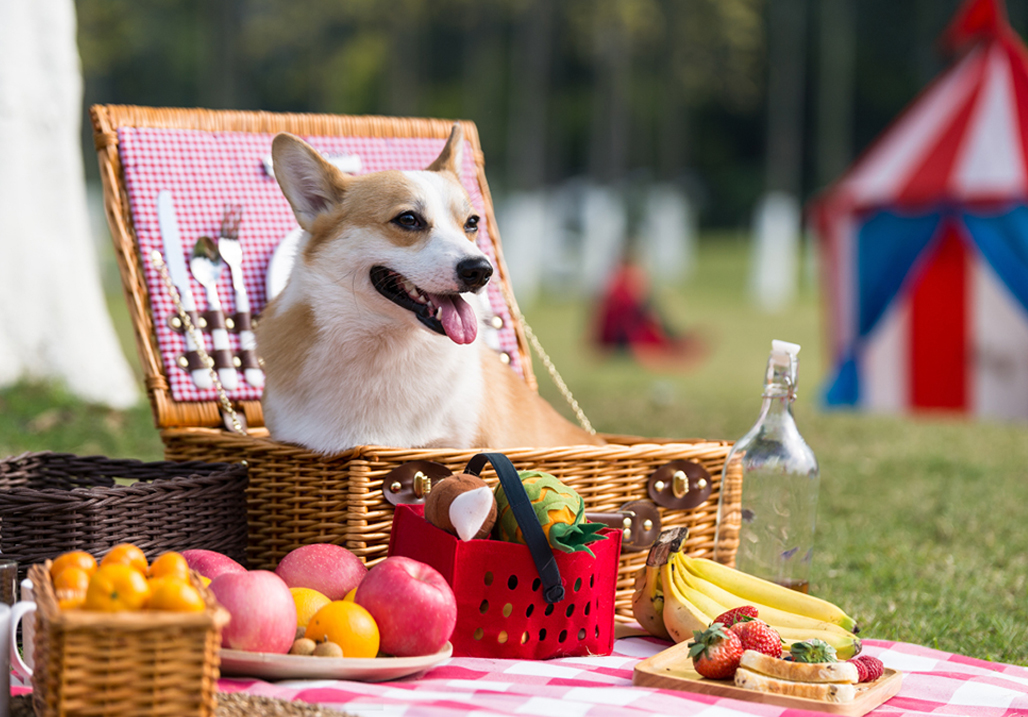 With Easter's arrival comes the arrival of warm spring temperatures. After a long, cold winter, there's nothing better than spending quality time outdoors, soaking up the sun and the fresh air. Easter is a great time to plan outdoor activities.
An outdoor picnic is a great way to take advantage of the beautiful spring weather. Pack up snacks for the whole family, including dog-friendly treats, in a picnic basket, grab a blanket, and set up camp in your backyard or a local dog-friendly park.
Despite all of the fun festivities, holidays can be stressful for our dogs with so many people and changes to their routines. Giving your dog plenty of exercise and playtime can help mitigate behavior issues and keep your dog feeling happy and healthy.
Plan a Puppy Play Date with Your Dog's Closest Furiends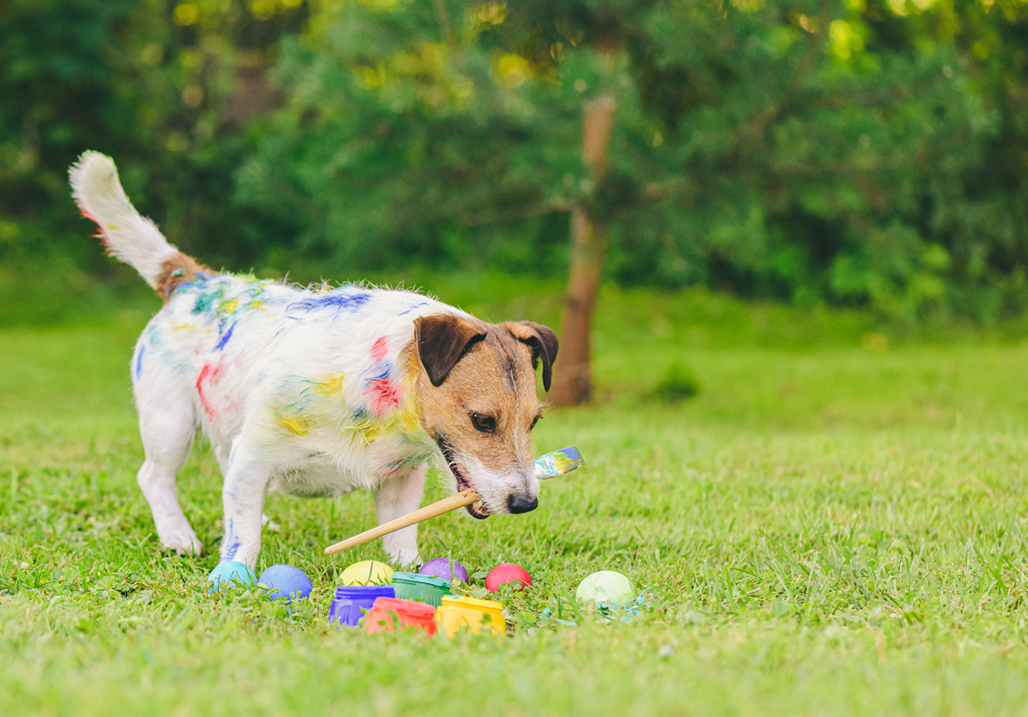 Easter is a great time to gather with your friends and family, so why not include your dog's closest friends as well? Turn Easter into a doggie celebration by gathering a few of your favorite dog parents and their pups for a party.
Whether you plan the party for your backyard or a local dog-friendly park, the dogs will have fun playing with each other and participating in Easter-themed activities.
Consider having the dogs make a keepsake Easter craft, like pawprint paintings using non-toxic, dog-friendly paint. You can also add an Easter print with some paint into a plastic bag, smear the plastic bag with peanut butter, and have each dog "paint" their own Easter masterpiece by licking the plastic bag.
If your dog isn't into arts and crafts, simply spending time playing with their friends or enjoying a sniff walk in the spring air can be just as rewarding.
How Will You Celebrate Easter with Your Dog?
Just like human children, our fur babies deserve to have a special, festive holiday filled with treats, festivities, and quality family time. Every dog is different, so fill your dog's holiday with the activities and foods that they enjoy most and they'll have their best Easter yet.